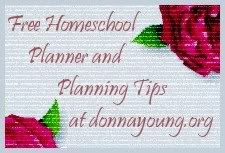 Homeschool Connections does not provide transcripts or record keeping services. Families who use home study programs usually contact their counselor to receive credit for our courses. Families who design their own curriculum simply add our courses to their own homeschool transcript.
If you are just beginning and need some help with record keeping, a great place to start is
Donna Young's Homeschool Printables and Resources website
. Donna provides every homeschool form imaginable for free even though it's practically a fulltime job for her. Personally, I use her transcript forms which have been accepted by my teens' college choices no problem.
Another resource is Homeschool Tracker. This is a software program that helps you with planning as well as record keeping. There is the
Basic edition which is free
and probably has most of what you need. There is also a
Homeschool Tracker PLUS edition
which has all the bells and whistles for just $49. If you'd like to try out the Plus edition first, there is a 30-day trial for $5.